As most of you already know the Emmy Awards were held off last Sunday the 18th of September. And for me, I'm not much of a big fan of these awards, but I am a huge fan of the Red Carpet edition. Al those gorgeous dresses and suites make me just… *squeak*!
And one of my favorite show to watch which is related to these awards is 'E!'sFashion Police' presented by Joan Rivers along with Kelly Osbourne, Giuliana Rancic and George Kotsiopoulos. And for the special Emmy's edition they had 'Project Runway' judge Nina Garcia.
Like I mentioned before I'm pretty busy these days and today finally got the chance to sit and watch the show and to hear their comments fashion-wise of the celebrity's wardrobe.
Next I'm going to share my faves, less faves and totally what I think are worst of the worst with you all. Just click for more.
I personally think that this gown is a real beauty but her hair had to be up to show off the neckline and her back. And I couldn't be more right as the hosts of FP think the same.
Kate Winslet in Elie Saab
Gorgeous dress but I do think its a little shame that her spank is marking from under her gown. But besides that she is looking fabulous! Although Giuliana does think that it's a little boring looking as they are used to her dressing ultra fabulous.
Nina Dobrev in Donna Karen
WOW! Holy molly, the 'Vampire Diaries' starlet looks just stunning! I have no more words, just stunning! She was nominated "Best Dressed" by the Fashion Police.
Sofia Vergara in Vera Wang
The perfect combination, this gown fits her right in all the right places. Gorgeous!
Christina Hendricks in Johanna Johnson
My honest opinion to this gown is… "I don't know". seriously, I have mixed feeling about this gown. I mean, I think that the details on the gown suits her well as they fit great on her and her body and her cleavage is always the talk of the night, but she still knows how to shake things up. But then I look down and notice her split. I think that the split was unnecessary and if there wasn't any split she would look better.
She was Joan's 'Worst Dressed' of the evening with her split and fat knees.
Dianna Agron in Roksanda Ilincic
The first thing that hit my mind was "WTF, she looks old"! and then it hit me, it's the gown that makes her look old. She's young and she needed to wear something fun and more her age. Definitely not my fav of the night. But her hair and make-up is beautiful though.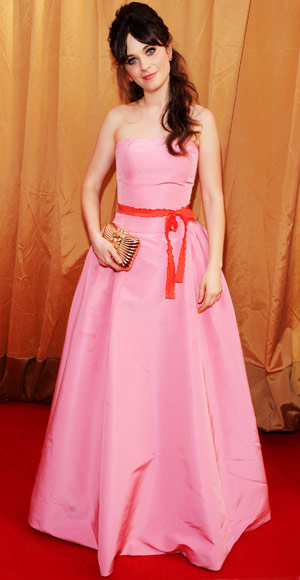 Zooey Deschanel in Monique Lhuillier
Like Kelly said: "Zooey, Suri Cruise called and she would like to get her dress back!"
This dress is simply too cute… too cute for the major Emmy Awards. She definitely could have chosen a whole other gown, one that would fit the occasion properly. FYI, I don't think the gown is ugly or noting like that, but just it looks like she's about to go to her Sweet 16 party.
Brooke Burke
Absolutely beautiful! I love the gown and also her accessories. Just plain beautiful.
Katie Holmes in Calvin Klein
Kelly Osborne in J. Mendel
Kelly herself is looking absolutely stunning in this mermaid gown. A gorgeous gown that fits her curves amazing. Beautiful! She keeps amazes me time after time.
Lena Headey in Alessandra Rich
Now this is how you were black. Her sleeved gown is simple, Goth but amazingly beautiful. She's Kelly & Joan 'Best Dressed'.
Paula Abdul
Could anyone have told this woman that her gown was shifted? I mean, come onnn. Didn't she look in the mirror before she left or none of her people notice that the gown looked weird? All by all the dress is still pretty, maybe a little too much with the bling on the belt but still pretty.
Now this is how a full figure woman works with what she haves! I love the color, the scarf and of course the gown. She looks beautiful.
A super cool thing to watch is the Glam Cam of E! where they shot a 360 look on different stars.
What do you think of this years Emmy High Fashion on the red carpet? Do you agree with my opinion? Or have I missed someone that looked stunning?
Let me know here down below ;)
Wishing you a fashioned day with tons of love ;)